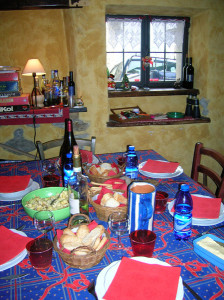 Or you can opt for a simple mixed grill, have an afternoon tea, or just a hot chocolate …..
We're always looking for typical old recipes from Oulx and the upper Susa Valley, with special attention to local Occitana dishes.
Our traditional menus, including a few long-forgotten dishes, draw inspiration from the old upper Susa Valley culture of Escarton d'Oulx. The local Occitan culture, including songs and dances, goes back to the 13th century, and so do some of its costumes, legends and above all the style of life that survives here.
Special Theme suppers
On request, suppers on particular themes can be served, characterised by traditional Occitana or old Piedmontese dishes, including local game, mixed boiled meats, bagna calda (a local speciality) or braised beef.